| | |
| --- | --- |
| 6.1 Learning and Improvement Framework | |
SCOPE OF THIS CHAPTER
This Learning and Improvement Framework covers the requirements within Chapter 4 of Working Together to Safeguard Children, which describes the way that professionals and organisations protecting children need to reflect on the quality of their services, outcomes for children and learn from their own practice and that of others. It explains the requirements for an integrated local learning and improvement framework and the principles to be used when undertaking Serious Case Reviews, as well as other forms of reviews and quality assurance activity. It also covers the multi-agency Learning and Development response to learning lessons and the way in which Rotherham LSCP and its Sub Groups deliver this.
RELATED GUIDANCE
ACPO – A Guide to Investigating Child Deaths
Serious Case Review Quality Markers
RELATED CHAPTER
Notification to the RLSCP of Serious Safeguarding Incidents Procedure
AMENDMENT
In December 2016, links were added to Serious Case Review Quality Markers in the Related Guidance section.

Contents

1. Principles
1.1 Learning and Improvement Framework
Working Together to Safeguard Children requires that the Local Safeguarding Children Partnership maintain a shared local learning and improvement framework across those local organisations working with children and families.
This local framework covers the full range of single and multi-agency reviews and audits which aim to drive improvements to safeguard and promote the welfare of children. The different types of review include:
Serious Case Review for every case where abuse or neglect is known or suspected and

either

:

A child dies; or
A child is seriously harmed and there are concerns about how organisations or professionals worked together to safeguard the child.

Child death review (see Chapter 5: Child Death Reviews): a review of all child deaths;
Review of a child protection incident which falls below the threshold for a Serious Case Review; and
Review or audit of practice in one or more agencies.
1.2 Purpose of Local Framework
The aim of this framework is to enable local organisations to improve services through being clear about their responsibilities to learn from experience and particularly through the provision of insights into the way organisations work together to safeguard and protect the welfare of children.
This should be achieved though:
Reviews conducted regularly;
Such reviews to encompass both those cases which meet statutory criteria (i.e. Serious Case Reviews and child death reviews) and cases which may provide useful insights into the way organisations are working together to safeguard and protect the welfare of children;
Reviews examining what happened in the case, why it did so and what action will be taken to learn from the findings;
Learning from both good and more problematic practice about the organisational strengths and weaknesses within local services to safeguard children;
Implementation of actions arising from the findings which result in lasting improvements to services;
Transparency about the issues arising and the resulting actions organisations take in response to the findings from individual cases, including sharing the final reports of Serious Case Reviews with the public;
Reviews are not an end in themselves, but a method to identify improvements needed and to consolidate good practice. Rotherham LSCP and partner organisations will translate the findings from reviews into programmes of action which lead to sustainable improvements.
1.3 Principles for a Culture of Continuous Improvement
There should be a culture of continuous learning and improvement across the organisations that work together to safeguard and promote the welfare of children, so as to identify what works and what promotes good practice.
Within this culture the principles are:
A proportionate response

: according to the scale and level of complexity of the issues being examined i.e. the scale of the review is not determined by whether or not the circumstances meet statutory criteria;

Independence

: Reviews of serious cases to be led by individuals who are independent of the case under review and of the organisations whose actions are being reviewed;

Involvement of practitioners and clinicians

: Professionals should be fully involved in reviews and invited to contribute their perspectives without fear of being blamed for actions they took in good faith;

Offer of family involvement

: Families, including surviving children, should be invited to contribute to reviews and be provided with an understanding of how this will occur;

The child to be at the centre of the process

;

Transparency

: achieved by publication of the final reports of Serious Case Reviews and the LSCP's response to the findings. The LSCP annual reports will explain the impact of Serious Case Reviews and other reviews on improving services to children and families and on reducing the incidence of deaths or serious harm to children. This will also inform inspections;

Sustainability

: improvement must be sustained through regular monitoring and follow-up so that the findings from these reviews make a real impact on improving outcomes for children.

2. Serious Case Review Process
2.1 Criteria for Notifiable Incidents
A notifiable incident is an incident involving the care of a child which meets any of the following criteria:
A child has died (including cases of suspected suicide), and abuse or neglect is known or suspected;
A child has been seriously harmed and abuse or neglect is known or suspected;
A looked after child has died (including cases where abuse or neglect is not known or suspected); or
A child in a regulated setting or service has died (including cases where abuse or neglect is not known or suspected).
The local authority should report any incident that meets the above criteria to Ofsted and the relevant LSCP or LSCPs promptly, and within five working days of becoming aware that the incident has occurred.
For the avoidance of doubt, if an incident meets the criteria for a Serious Case Review (see below) then it will also meet the criteria for a notifiable incident (above). There will, however, be notifiable incidents that do not proceed through to Serious Case Review.
For more information see Notification to the RLSCP of Serious Safeguarding Incidents Procedure.
2.2 Criteria for Serious Case Reviews
Regulation 5 of the Local Safeguarding Children Partnerships Regulations 2006 sets out the functions of LSCPs. This includes the requirement for LSCPs to undertake reviews of serious cases in specified circumstances. Regulation 5(1)(e) and (2) set out an LSCP's function in relation to serious case reviews, namely:
5(1)(e) undertaking reviews of serious cases and advising the authority and their Board partners on lessons to be learned.

(2) For the purposes of paragraph (1) (e) a serious case is one where:

Abuse or neglect of a child is known or suspected; and
Either — (i) the child has died; or (ii) the child has been seriously harmed and there is cause for concern as to the way in which the authority, their Board partners or other relevant persons have worked together to safeguard the child.
"Seriously harmed" includes, but is not limited to, cases where the child has sustained, as a result of abuse or neglect, any or all of the following:
A potentially life-threatening injury;
Serious and/or likely long-term impairment of physical or mental health or physical, intellectual, emotional, social or behavioural development.
This definition is not exhaustive. In addition, even if a child recovers, this does not mean that serious harm cannot have occurred. LSCPs should ensure that their considerations on whether serious harm has occurred are informed by available research evidence.
Cases which meet one of the criteria (i.e. regulation 5(2)(a) and (b)(i) or 5(2)(a) and (b)(ii)) must always trigger an SCR. Regulation 5(2)(b)(i) includes cases where a child died by suspected suicide. Where a case is being considered under regulation 5(2)(b)(ii), unless there is definitive evidence that there are no concerns about inter-agency working, the LSCP must commission an SCR.
In addition, even if one of the criteria is not met, an SCR should always be carried out when a child dies in custody, in police custody, on remand or following sentencing, in a Young Offender Institution, in a secure training centre or a secure children's home. The same applies where a child dies who was detained under the Mental Health Act 1983 or where a child aged 16 or 17 was the subject of a deprivation of liberty order under the Mental Capacity Act 2005. (Working Together to Safeguard Children)
2.3 Decisions Whether to Initiate a Serious Case Review
Rotherham LSCP, where a child is normally resident in the borough, must decide whether an incident notified to them meets the criteria (see Section 2.2, Criteria) for a Serious Case Review. This decision should normally be made within one month of notification of the incident. The final decision rests with the Chair of Rotherham LSCP. The Chair may seek peer challenge from another LSCP Chair when considering this decision (and also at other stages in the Serious Case Review process).
Rotherham LSCP must notify Ofsted, DfE and the National Panel of Independent Experts within five working days of the Chair's decision not to initiate a Serious Case Review, this may be subject to scrutiny by the national panel and require the provision of further information on request and the LSCP chair may be asked to give evidence in person to the panel.
The LSCP Chair should be confident that such a review will thoroughly, independently and openly investigate the issues. The LSCP will also want to review instances of good practice and consider how these can be shared and embedded. The LSCP should oversee implementation of actions resulting from these reviews and reflect on progress in its annual report.
LSCPs should consider conducting reviews on cases which do not meet the SCR criteria. If an SCR is not required because the criteria in regulation 5(2) are not met, the LSCP may still decide to commission an SCR or they may choose to commission an alternative form of case review.
2.4 National Panel of Independent Experts on Serious Case Reviews
Working Together to Safeguard Children announced a plan for a National Panel of Independent Experts to advise and support LSCPs about the initiation and publication of Serious Case Reviews. The panel reports to the relevant Government departments their views of how the system is working. LSCPs should have regard to the panel's advice on:
Application of the Serious Case Review criteria: whether or not to initiate a Serious Case Review;
Appointment of reviewers;
Publication of Serious Case Review reports.
Rotherham LSCP Chair and LSCP members should comply with requests from the panel as far as possible, including requests for information such as copies of reports and invitations to attend meetings.
2.5 Methodology for Learning and Improvement
Working Together to Safeguard Children does not prescribe any particular methodology to use in such continuous learning, except that whatever model is used it must be consistent with the following 5 principles:
Recognises the complex circumstances in which professionals work together to safeguard children;
Seeks to understand precisely who did what and the underlying reasons that led individuals and organisations to act as they did;
Seeks to understand practice from the viewpoint of the individuals and organisations; involved at the time rather than using hindsight;
Transparency about the way data is collected and analysed; and
Makes use of relevant research and case evidence to inform the findings.
Whilst Working Together to Safeguard Children stops short of advocating any specific method the systems methodology as recommended by Professor Munro (The Munro Review of Child Protection: Final Report: A Child Centred System) is cited as an example of a model that is consistent with these principles.
2.6 Appointing Reviewers
Rotherham LSCP will appoint one or more suitable individuals to lead the Serious Case Review. Such individuals should have demonstrated that they are qualified to conduct reviews using the Section 1.3, Principles for a Culture of Continuous Improvement.
The lead reviewer should be independent of Rotherham LSCP and the organisations involved in the case.
Rotherham LSCP will provide the National Panel of Independent Experts (see Section 2.4, National Panel of Independent Experts on Serious Case Reviews) with the name(s) of the individual(s) appointed to conduct the Serious Case Review and consider carefully any advice which the panel provides about the appointment/s.
Working Together to Safeguard Children does not specify the need for an independent chair, or for a chair for the process: the need or not for this will depend on the individual choice of Rotherham LSCP and the review model selected.
2.7 Timescale for Serious Case Review Completion
Rotherham LSCP will aim for completion of the Serious Case Review within six months of initiating it. If this is not possible (e.g. because of potential prejudice to related court proceedings), every effort should be made while the Serious Case Review is in progress to:
Capture points from the case about improvements needed; and
Take any corrective action identified as required.
2.8 Engagement of Organisations
Rotherham LSCP will ensure appropriate representation in the review process of professionals and organisations involved with the child and family.
Rotherham LSCP may decide as part of the Serious Case Review to ask each relevant organisation to provide information in writing about its involvement with the child who is the subject of the review. The form in which such written material is provided will depend on the methodology chosen for the review.
In addition, the LSCP can require a person or body to comply with a request for information Section 14B of the Children Act 2004. This can only take place where the information is essential to carrying out LSCP statutory functions. Any request for information about individuals must be 'necessary' and 'proportionate' to the reasons for the request. LSCPs should be mindful of the burden of requests and should explain why the information is needed.
2.9 Agreeing Improvement Action
Rotherham LSCP will oversee the process of agreeing with partners what action they need to take in light of the Serious Case Review findings, establish timescales for action to be taken, agree success criteria and assess the impact of the actions. This will be delegated by Rotherham LSCP to the Serious Case Review Panel. All learning and action points will be shared with all the Rotherham LSCP Sub Groups, the Learning and Improvement Sub Group overseeing the Improvements to Practice which will in turn be measured by the Performance and Quality Assurance Sub-Groups, feeding a constant cycle of learning and improvement.
2.10 Publication of Reports
In order to provide transparency and to support national sharing of lessons learnt and good practice in writing and publishing such reports, all reviews of cases meeting the Serious Case Review criteria will result in a readily accessible published report on Rotherham LSCP's website. It will remain on the web-site for a minimum of 12 months and thereafter be available on request.
The fact that the report will be published must be taken into consideration throughout the process, with reports written in such a way that publication 'will not be likely to harm the welfare of any children or Adults at Risk involved in the case' and consideration given on how best to manage the impact of publication on those affected by the case. Rotherham LSCP will comply with the Data Protection Act 1998 and any other restrictions on publication of information, such as court orders.
The final Serious Case Review report should:
Provide a sound analysis of what happened in the case, and why, and what needs to happen in order to reduce the risk of recurrence;
Be written in plain English and in a way that can be easily understood by professionals and the public alike; and
Be suitable for publication without needing to be amended or redacted.
Rotherham LSCP will publish, either as part of the final Serious Case Review report or in a separate document, information about:
Actions already taken in response to the review findings;
The impact these actions have had on improving services; and
What more will be done.
Rotherham LSCP will send copies of all Serious Case Review reports to the National Panel of Independent Experts at least one week before publication. If Rotherham LSCP considers that a report should not be published, it should inform the panel which will provide advice. Rotherham LSCP will provide all relevant information to the panel on request, to inform its deliberations.

3. Quality Assurance and Auditing
The importance of regular auditing of practice, on a single and multi-agency basis, as a measure of the effectiveness of services and outcomes for children cannot be overstated. A priority for RLSCP is to use regular auditing of practice as a way of ensuring the effectiveness of that practice, measuring outcomes for children and learning what works well in addition to what needs to be improved. The RLSCP audit activity is driven by the key priority areas contained within its business plan but also responds to areas of practice or themes that can arise from incidents or reviews, whether Serious Case Reviews, other Lessons Learned Reviews or Inspections.
3.1 The Purpose of Quality Assurance
The purpose of the quality assurance is to:
Improve outcomes for vulnerable children;
Design quality into our services through the introduction of practice standards;
Ensure services are achieving consistently high standards;
Engender an organisational culture committed to learning and continual improvement;
Improve the level of feedback on quality of services from children, their families and staff;
Support the continuous improvement and development of the children's workforce.
3.2 Quality Assurance Principles
Quality must relate to service-user experience and outcomes;
Quality can always be improved;
Everyone has a role to play in improving quality from front line practitioners to Senior Managers;
All staff must be flexible in meeting peoples changing needs and choices;
Quality outcomes and improvements are most likely when there are skilled, enthusiastic and resourceful staff;
Quality assurance will be planned into all new services to ensure we get it right the first time;
Comprehensive policies and procedures will be in place so staff can see what they have to do in order to meet standards;
Quality assurance will draw together messages from a wide-evidence base to provide an overview of quality.
In terms of undertaking and benefitting from multi-agency audit work, it is critical that all agencies and organisations commit sufficient resources to enable this to be an effective mechanism for learning and improvement. Through the work of the Board's Performance & Quality Assurance Sub Group (and the Practice Review Group), the results of audits will be analysed. The learning points will inform the Learning and Improvement and other Sub Groups in terms of what the learning is and how it will be translated into improved practice and outcomes for children and young people.

4. Learning into Improvement
4.1 An Enabling Partnership
As part of its wider function, Rotherham LSCP is required to ensure that continuous improvement is delivered as a matter of course, and the work of the Board's Sub Groups should be the delivery mechanism for this in practice. As outlined in preceding sections, the LSCP will take all opportunities for learning and translate this into improvement: the Board's Learning & Improvement Sub Group will lead, in conjunction with the other Sub Groups, the responsibility for leading this work on behalf of the Board through its Business Plan.
The terms of reference of each of the Sub Groups reflect the requirement for learning points to be referred into the Learning & Improvement Sub Group to inform policy, procedural and/or learning and development revisions, which will in turn directly affect changes to practice, service delivery or commissioning considerations. The following diagram illustrates the strategic approach to Learning and Improvement (fig 1):

Figure 1: Strategic approach to Learning and Improvement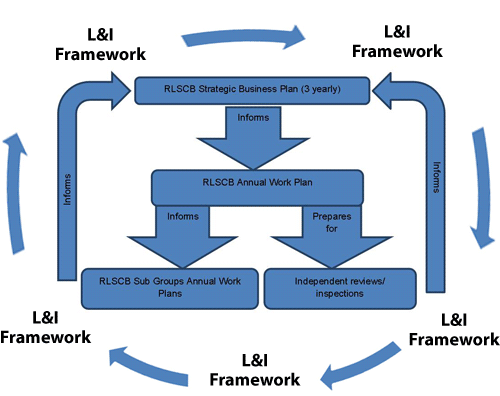 5. Learning & Development Policy
5.1 Introduction
Having a well-trained, competent workforce is the delivery vehicle for ensuring excellent safeguarding practice is in place across the borough. The Rotherham definition of the children, young people and families is in line with national research and guidance published by the former Children's Workforce Development Council.
This Learning and Development sets the framework within which Rotherham LSCP as a partnership will deliver on its responsibilities as outlined in Working Together to Safeguard Children, namely:
Professionals and organisations protecting children need to reflect on the quality of their services and learn from their own practice and that of others. Good practice should be shared so that there is a growing understanding of what works well. Conversely, when things go wrong there needs to be a rigorous, objective analysis of what happened and why, so that important lessons can be learnt and services improved to reduce the risk of future harm to children.
Having structured, proportionate and regular opportunities to bring the multi-agency workforce together to share learning and work toward improvement is at the heart of our planning as a multi-agency learning and development provider. Not only do our learning events enable taught content to be delivered to increase knowledge and develop skills; they also provide a platform for relationship-building across different professional disciplines.
Where there are cross-cutting multi-disciplinary / agency areas of learning, these will be included in the RLSCPs learning and development offer. A copy of the Rotherham LSCP Learning & Development Prospectus can be downloaded from the RLSCP website. Rotherham will work to the following definitions:
Single-agency training

is training carried out by a particular agency for its own staff; and

Multi-agency training

is for employees of different agencies who either work together formally or come together for training or development.
5.2 Values
All learning and development should place the child at the centre and promote the importance of understanding the child's daily life experiences, ascertaining their wishes and feelings, listening to the child and never losing sight of his or her needs;
All learning and development should create an ethos that values working collaboratively with others, respects diversity, promotes equality and encourages the participation of children and families in the safeguarding processes.
These values underpin all of the Learning and Develop activity that Rotherham LSCP either delivers or commissions.

5.3 Safeguarding Children - Workforce Definitions and Learning and Development Requirements
The previous definitions of the workforce as outlined in Working Together 2010 (now archived), groups 1 -8 - will continue to be utilised by Rotherham LSCP as the framework within which we will deliver and measure the effectiveness of learning and development provision. In addition to retaining these groups, competencies have been developed which are associated with each group, and these have been used to inform the commissioning of activity as outlined in the annual publication and dissemination of the Learning & Development Prospectus.
The groups are defined in more detail below in table 1.
In addition to the mandatory learning and development associated with these workforce groups, the Rotherham LSCP Learning & Development Prospectus will also include a range of optional workshops, which should be accessed where organisations believe that this is relevant to the specific job role of the employed staff member/volunteer. Organisational approaches to this will differ dependent on their own single-agency learning and development offer, though Rotherham LSCP reserves the right to make it a requirement for multi-agency participation in learning and development activity in instances where this is identified as necessary to improving safeguarding practice across the partnership e.g. following a Lessons Learned Review or Serious Case Review.
Table 1. Learning & Development groups and competencies
Click here to view the Learning & Development Groups and Competencies Table.


5.4 Early Help - Workforce Definitions and Learning and Development Requirements
There is a wide range of organisations working with children, young people and families in the wider workforce, as outlined in Appendix A. Each individual role within an organisation will have its own associated competencies, dependent on whom the employer, the service that is being provided and what the requirements of the role being undertaken.
Taking these factors into account, 3 tiers of a Licensed Early Help Practitioner Status have been established: a licenced level for practitioners working at the 3 tiers of Early Help, as defined by the continuum of need: universal, vulnerable and complex. There is associated learning and development with each tier of the license, which provides assurance that services are being provided to families by a competent workforce.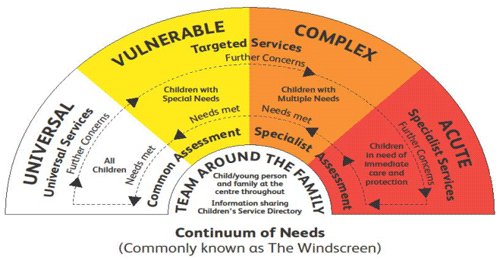 The learning and development activity targeted at each tier of the continuum of need is included in the annual refresh of the Early Help Learning & Development Prospectus.
Whilst a practitioner will not be prohibited from working with families if they haven't undertaken the relevant learning and development, the intention is to have a shared confidence across the workforce in the collective ability to deliver to that is a local minimum standard. In some cases, professional qualifications and/or vocational training may negate the need for the learning and development offered within this prospectus to be undertaken: what is important is that the quality of provision is in place.
For organisations and practitioners to clearly identify where their role and remit is on the continuum of need, then the following definition may prove helpful:
| | |
| --- | --- |
| Rotherham Continuum of Need | Munro Definition |
| Universal | Universal Primary Prevention - addressing the entire population and aiming to reduce the later incidence of problems, for example, the universal services of health, education, income support; |
| 1 Vulnerable | Selective Primary Prevention – focusing on groups which research has indicated are at higher than average risk of developing problems. Many of the interventions recommended in Graham Allen's review fall into this category, for example, offering additional support services to teenage mothers; |
| 2 Complex | Secondary Prevention - aiming to respond quickly when low level problems arise in order to prevent these getting worse. This area of multi‐agency work has been the focus of policy development since the last Conservative Government's 're‐focusing' policy in 1995 and the Labour Government's policy of 'Every Child Matters'. |

5.5 Access to Learning & Development
Rotherham LSCP has a dedicated officer who will provide the administration of the learning and development delivery commissioned by the Board.
Both Rotherham LSCP and Organisations as employers are responsible for ensuring that their staff are competent and confident in carrying out their responsibilities for safeguarding children and promoting their welfare. All organisations should therefore support the different learning and development requirements of their employees by supporting active participation in safeguarding children learning and development activity. There are clear expectations relating to people's behaviour whilst attending learning and developments:
Behaving in an appropriate and professional manner at all times: any behaviour which is deemed to be aggressive, disrespectful, violent or intimidating will not be accepted. Any attendee who displays such behaviour will be asked to leave and their Line Manager made aware of the concerns relating to their behaviour;
The use of inappropriate comments: If any comments made cause concern with regard to safeguarding children issues this will be challenged and will also be passed to Line Managers and/or safeguarding professionals for their consideration;
All attendees are expected to be active learners: everyone has a responsibility to be respectful and to also participate. Additionally, all attendees must observe any health and safety information provided to them at training events.
All LSCP learning and development events will include a post-workshop evaluation form and a post-workshop reflection from. All agencies are required to utilise these processes and feed information back to the LSCP, evidencing the effectiveness of this in their Section 11 assessments.
5.6 Quality Assurance and the Impact of Learning and Development Provision
The Rotherham Local Safeguarding Children Partnership has a responsibility to ensure the quality of learning & development delivered to members of the "one children's workforce" working is of the highest standard possible.
One key component of quality assurance is the evaluation of learning and development activity commissioned by the RLSCP, both in terms of the "end of a session" review and the resultant impact this is having on service improvement across all agencies. For Groups 3-8 there is an expectation that safeguarding learning and development, commissioned by the Rotherham LSCP, will be delivered in a multi-agency setting, as will the activity delivered via the Early Help Prospectus.
There is also learning and development activity for groups 3 - 8 which is undertaken by organisations for their staff and these readily map to the local competencies agreed by Rotherham LSCP for the different staff groups (table 1).
Rotherham LSCP has therefore published an assurance framework which guides the work required by all partners to provide assurance to the Board that the quality of learning and development is appropriate and proportionate. This will be subject to regular review by the Learning & Improvement Sub-Group.
5.7 Governance
Rotherham LSCP, Learning & Improvement Sub-Group is the multi-agency forum where learning and development provision will be planned, commissioned and reviewed. This Sub Group is chaired by a Board member and produces an annual work plan in addition to quarterly reporting to the Board.
End